©Kyle Artist

Please take time to listen to the Team's album - 'Keeping The Faith', click cover to listen or purchase.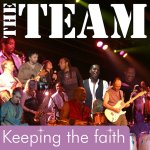 Guestbook
Thank you for visiting the guestbook. Feel free to contribute to the book.
Archive Guestbook from its commissioning to 2011. Please report any problems to
Due to Spambots e-mail addresses will not be displayed but can be supplied on request to the webmaster, stating the date and time of entry.

NB. Kyle Artist reserve the right to all content in this guestbook
127 messages
< Previous 1 ... 5 6 7 8 9 10 11 12 13

> Next

All

Name: JEAN DENTON
Location: MUNCIE, IN
Submitted: February 17, 2012 01:03:51
Comments: I have listened to Edwin since I was a teenager. What a beautiful voice that is sorely missed. I loved his music. Thanks so much for this page tribute to him. We his fans will never forget him. God'smGrace and Peace to his family.


Name: Rick McAfee
Location: San Diego Ca
Submitted: January 27, 2012 00:00:11
Comments: Frosty, what....up? Love to hear from you. Let's take a ride to Hollywood! contact me if you get this..rick@aqualcorp.com or mcafeeplace@hotmail.com..619-249-8784


Name: RONNIE CANADA
Location: SANTA CRUZ DE TENERIFE
Submitted: January 21, 2012 17:38:04
Comments: Happy 70TH. Birthday Edwin R.I.P.


Name: mary
Location: shrewsbury
Submitted: January 21, 2012 10:19:41
Comments: Happy birthday Edwin, It would have been a big one as well 70, I can remember when you were 60 and you said the age did not bother you as you were here and a lot of your friends had not made it. How I wish you were here for this one. love Mary xxx


Name: Paul
Location: Worcester
Submitted: October 27, 2011 14:28:52
Comments: Hi Man if you didant hear from me you would ask had I broken my finger and couldent dial your number.Well have you got no phones in Heavon? Love from Paul Kari and Angelo


Name: amanda
Location: london
Submitted: September 29, 2011 20:26:30
Comments: hey daddie, only me i cant believe i was just reading through the guestbook and there i was writing to you when i was 21........its crazy im now 24. time has flown by so quickly, i wish u were here so u could share with me all the wonderful things i am doing rite now and to guide me. everytime i hear your voice it saddedns me taht i can never see u again, but makes my heart feel so warm that we have still got so much more of you to share. you have inspired me in so many ways. i hope i make you proud. you ar


Name: Frosty Hansen
Location: California
Submitted: September 20, 2011 03:31:23
Comments: I spent alot of time with Starrchild at Snow Bird Ski Resort in Utah - especially Rick McAfee. I would love to get in touch with Rick again. If anyone knows how to reach him, I would be greatful for the information or just tell him that I am trying to make contact.


< Previous 1 ... 5 6 7 8 9 10 11 12 13

> Next

All