©Kyle Artist

Please take time to listen to the Team's album - 'Keeping The Faith', click cover to listen or purchase.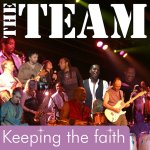 Guestbook
Thank you for visiting the guestbook. Feel free to contribute to the book.
Archive Guestbook from its commissioning to 2011. Please report any problems to
Due to Spambots e-mail addresses will not be displayed but can be supplied on request to the webmaster, stating the date and time of entry.

NB. Kyle Artist reserve the right to all content in this guestbook
101 messages
< Previous 1 2 3 4 5 6 7 8 9 10 11 Next > All

Name: mary andrews
Location: shrewsbury
Submitted: April 02, 2014 09:07:41
Comments: Thinking of you today Edwin with very fond memories of a very special person. Love Mary xxx


Name: CAROLE
Location: Surrey
Submitted: February 16, 2014 00:37:39
Comments: Just watched an old top of the pops rerun & there you were, singing Happy Radio, from 1978 I think, 36 years ago & it sounded like yesterday, what struck me most is the likeness to Jaiden,your grandson, he has the look of you, another wonderful legacy, I wish you could have met him Edwin, you would be so very proud, as he will be of you, be always peaceful xx


Name: 718
Location: Nottingham
Submitted: January 21, 2014 14:25:42
Comments: In my thoughts more so today because it's your birthday. Think about the times we shared always. Happy Birthday with all my love x


Name: Amanda
Location: London
Submitted: January 21, 2014 10:30:29
Comments: Happy birthday daddy/ grandad Love you millions, keep shining. Love from Amanda, Jeffrey and Jaiden Starr Xxxxxx


Name: mary
Location: shrewsbury
Submitted: January 21, 2014 09:57:25
Comments: no card to send just special thoughts and memories of a very special friend. Love Mary xxx


Name: Darren Vidler
Location: Little Hadham
Submitted: January 13, 2014 20:11:25
Comments: What a great site. managed to see edwin three times one as a guest to the supremes at walthamstow assembly hall in 1983,the dancing in the streets show and a show at the barbican with the tornados and others. Any radio recordings exist from his 1968 tour particularly saturday club


Name: Cher
Location: NC
Submitted: December 04, 2013 18:21:09
Comments: Thank you for the music, Edwin. You were a big part of the soundtrack of my life. Rest in peace, sir.


Name: Robin Murray
Location: Mobile, Alabama
Submitted: October 08, 2013 16:04:55
Comments: Just wanted to say ive been a huge fan for years! I am in my late 50's and still enjoy the music of the 70's and Edwin Starr was one of my favorites!!


Name: Kevin M
Location: Newton Aycliffe
Submitted: August 16, 2013 15:08:39
Comments: Just found this site and its a great tribute to a wonderful artist.Still listen to your music and i'm still in the Nortern scene where "Time"is still a huge favorite.RIP


Name: Amanda
Location: London
Submitted: June 16, 2013 20:30:31
Comments: Happy Father's Day daddy. I miss you so badly. I love you with all of my heart xxx


< Previous
1
2
3
4
5
6
7
8
9
10
11
Next >
All