©Kyle Artist

Please take time to listen to the Team's album - 'Keeping The Faith', click cover to listen or purchase.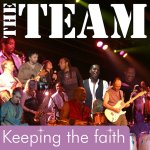 Guestbook
Thank you for visiting the guestbook. Feel free to contribute to the book.
Archive Guestbook from its commissioning to 2011. Please report any problems to
Due to Spambots e-mail addresses will not be displayed but can be supplied on request to the webmaster, stating the date and time of entry.

NB. Kyle Artist reserve the right to all content in this guestbook
125 messages


< Previous

1 2 3 4 5 6 7 8 9 ... 13 Next > All

Name: JoAnne Bolduc
Location: Bangor, Maine, USA
Submitted: March 21, 2023 06:25:47
Comments: Thank you for being so awesome


Name: Narvelan Coleman Hunt
Location: Los Angeles
Submitted: February 01, 2023 09:14:08
Comments: Wonderful memories of singing for Edwin, with background group, 'Splendeur.' In 1974/75; we performed at the Total Experience Night Club, toured the South, New York and South Africa. Opening acts were Arthur Conley and Betty Wright. Wonderful life experiences that I will never forget. May you R.I P.


Name: Golden Kyle-Koscuik
Location: Southern Oregon
Submitted: January 22, 2023 01:32:48
Comments: Happy Birthday 2023!!! RIP, Edwin Starr. My Good and Trusted Friend. Cheers once more from t the Son of the late Lilian Kyle. God bless and Keeping the Faith, Golden


Name: John Edgington
Location: Willenhall
Submitted: January 21, 2023 13:13:28
Comments: Thinking of you on your Birthday always my Number 1


Name: MARY ANDREWS
Location: shrewsbury
Submitted: January 21, 2023 12:19:30
Comments: Special birthday thoughts and memories to a very special person xxx


Name: Andy
Location: Batley
Submitted: October 18, 2022 16:10:15
Comments: I was lucky to see Edwin at Wigan Casino when he performed most of his set before being told that the sound was out on one side of the stage - not that we realised (he filled the stage and hall anyway). 'Let's do it again' was one of the most magical moments of any live act I've seen. Without a doubt, he was top man. > I am getting in touch in the hope that you can fill a gap in my memory. The first time I saw Edwin was at the variety club in Batley. I think it must have been 1970 or 1971. It would be much appreciated if you know the precise date, or have suggestions for when it was likely to have happened. Another great night. I noticed the Wheel boys at the front with one black leather glove punching the air but I had no idea what it was about.


Name: ralph kramden
Location: long island
Submitted: July 12, 2022 08:48:07
Comments: i still have the 45 recording of edwin starr singing ...WAR.he was so great....and soooo missed.until we meet again...RIP/


Name: MARY ANDREWS
Location: shrewsbury
Submitted: April 02, 2022 11:47:01
Comments: Remembering a very special person on this sad day that we lost him. Always remembered fondly xxx


Name: Jim Lloyd
Location: Birmingham
Submitted: April 01, 2022 07:09:01
Comments: I'm sure l saw Edwin on Springsteen's Tunnel of Love Tour at Villa Park (Birmingham) doing "War" - and he was fantastic. It makes perfect sense as Springsteen had covered the track. It would have been in1988.


Name: Sue Sharp
Location: Chelmsford
Submitted: January 21, 2022 16:17:36
Comments: Happy Birthday to a great singer. Such a gentleman truly missed .


< Previous

1 2 3 4 5 6 7 8 9 ... 13 Next > All