©Kyle Artist

Please take time to listen to the Team's album - 'Keeping The Faith', click cover to listen or purchase.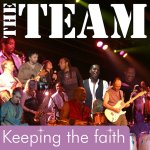 Guestbook
Thank you for visiting the guestbook. Feel free to contribute to the book.
Archive Guestbook from its commissioning to 2011. Please report any problems to
Due to Spambots e-mail addresses will not be displayed but can be supplied on request to the webmaster, stating the date and time of entry.

NB. Kyle Artist reserve the right to all content in this guestbook
127 messages
< Previous 1 ... 5 6 7 8 9 10 11 12 13 Next > All

Name: mary
Location: shrewsbury
Submitted: January 21, 2014 09:57:25
Comments: no card to send just special thoughts and memories of a very special friend. Love Mary xxx


Name: Darren Vidler
Location: Little Hadham
Submitted: January 13, 2014 20:11:25
Comments: What a great site. managed to see edwin three times one as a guest to the supremes at walthamstow assembly hall in 1983,the dancing in the streets show and a show at the barbican with the tornados and others. Any radio recordings exist from his 1968 tour particularly saturday club


Name: Cher
Location: NC
Submitted: December 04, 2013 18:21:09
Comments: Thank you for the music, Edwin. You were a big part of the soundtrack of my life. Rest in peace, sir.


Name: Robin Murray
Location: Mobile, Alabama
Submitted: October 08, 2013 16:04:55
Comments: Just wanted to say ive been a huge fan for years! I am in my late 50's and still enjoy the music of the 70's and Edwin Starr was one of my favorites!!


Name: Kevin M
Location: Newton Aycliffe
Submitted: August 16, 2013 15:08:39
Comments: Just found this site and its a great tribute to a wonderful artist.Still listen to your music and i'm still in the Nortern scene where "Time"is still a huge favorite.RIP


Name: Amanda
Location: London
Submitted: June 16, 2013 20:30:31
Comments: Happy Father's Day daddy. I miss you so badly. I love you with all of my heart xxx


Name: Darren Sullivan
Location: Milton Keynes
Submitted: June 10, 2013 13:10:26
Comments: I first saw Edwin in 1983 and then again in 84 twice as part of the Northern scene in Bradfrod and Leeds. Listening to the band on Saturday night just brought it all back. A fantastic celebration of soul and just having a gret time. Dont ever stop. p.s. put agent oo soul and back street on the play list. They rock!


Name: David Fulton
Location: Cardiff
Submitted: May 25, 2013 12:48:53
Comments: I was lucky enough to have supported Edwin, twice. Once at the Palace Hotel, in Manchester and once at Pop in the Park Cambridge. A truly awesome performer!


Name: Dawn
Location: Birmingham
Submitted: April 24, 2013 13:10:56
Comments: So pleased to see that at long last Edwin is being recognised with his induction into the R&B Hall of Fame.Hope Andre, his son can make it to collect the award on behalf of his father.


Name: 718
Location: Nottingham
Submitted: April 20, 2013 16:49:08
Comments: Ten years may have passed but you are always thought of each and every day...love you always x


< Previous 1 ... 5 6 7 8 9 10 11 12 13 Next > All