©Kyle Artist

Please take time to listen to the Team's album - 'Keeping The Faith', click cover to listen or purchase.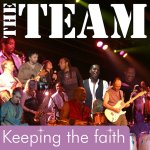 Guestbook
Thank you for visiting the guestbook. Feel free to contribute to the book.
Archive Guestbook from its commissioning to 2011. Please report any problems to
Due to Spambots e-mail addresses will not be displayed but can be supplied on request to the webmaster, stating the date and time of entry.

NB. Kyle Artist reserve the right to all content in this guestbook
100 messages
1 2 3 4 5 6 7 8 9 10 All

Name: Lilian
Location: Nottingham
Submitted: April 02, 2016 20:46:52
Comments: Thinking of you always, my Soul Master and Agent OO Soul.


Name: Barry and Ginny
Location: Tamworth
Submitted: April 02, 2016 18:48:07
Comments: Never forget your wonderful legacy to the people of the world. Very best thoughts and memories - always.


Name: The Kendalls
Location: Birmingham
Submitted: April 02, 2016 17:45:03
Comments: 13 years ago today we lost a true legend and a very special friend. Remembering you as always Edwin hoping your looking down on us all from your seat above. Rest peacefully Kevin, Freda, Victoria and Matthew. You would have loved our new addition Honey. XX


Name: Amanda
Location: London
Submitted: April 02, 2016 14:53:54
Comments: I miss you....I wish you were here to see my beautiful boy growing up and here to meet my little girl who is due to arrive 1 month today. Jaiden knows your voice. It is one of a kind. Forever in my heart. Love you. Amanda xxxx


Name: mary andrews
Location: shrewsbury
Submitted: April 02, 2016 11:01:49
Comments: Today is a very sad day, the day 13 years ago that you left us. You will always be remembered with fondness. Love Mary xxx


Name: neil williams
Location: nottingham
Submitted: February 25, 2016 20:20:53
Comments: have listened to your music growing up and you had one great voice right to the end, absolutely great starr. have made many visits to wilford hill.


Name: virginia
Location: Texas
Submitted: February 05, 2016 03:40:22
Comments: one of the best voices ever, with the song War being as important and timely today as it was in the 60's. or any year. God bless you and your family, Edwinn. i am sorry i never got to see you in concert.


Name: mary
Location: shrewsbury
Submitted: January 21, 2016 11:40:43
Comments: Happy Birthday, extra special thoughts of you today on your birthday. Love Mary xxx


Name: James Cloyd
Location: Detroit,Michigan
Submitted: December 16, 2015 07:40:32
Comments: Edwin Starr was one very funky man. I do some of his songs but my voice is not quite as soulful as his.But I have so much fun doing it! Also this is a nice website!


Name: Dawn
Location: Birmingham
Submitted: October 04, 2015 15:59:28
Comments: 2013 Edwin inducted into the Rhythm & Blues Music Hall of Fame......2015 Andre Hatcher will collect this award.....presented to him by long time friend Bill Randle. Proud moment


1
2
3
4
5
6
7
8
9
10
All